Arizona High School Kicker Makes NCAA History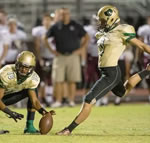 There's nothing particularly record breaking about an athlete receiving a scholarship. NCAA Division I and Division II scholarships are handed down all the time to deserving players who meet the requirements, both on the field and in school, to earn such a distinction from players who walk on to the team. So what's so exciting about the letter of intent that was signed by the kicker from Basha High School in Chandler, Arizona?
Well, She is the first. The first woman to receive a football scholarship from a NCAA DII school or higher. And she didn't even know it. Becca Longo, along with the rest of her high school, found out that she was the first woman to receive a scholarship for college football at this level when her coach announced it during the signing assembly.
Longo received the offer from Colorado-based school Adams State University, where she'll also play basketball in addition to football. She is not the first woman to play D1 ball, but she is the first to do it without having to walk on to the team. Longo went 35 for 38 in extra point attempts and made a 30-yard field goal, the lone attempt on the season. The lack of field goal attempts wasn't due to lack of faith in her kicking ability. Rather it was due to the team always going for it on fourth down. Which should come as no surprise as her quarterback was none other than Ryan Kelley, who was ranked No. 11 by ESPN as a dual-threat.
Although Longo had to reach out to the school herself and didn't hear back from someone until the end of the season, once the coaching staff saw what she had, they knew they had to have her. Adams State Head Coach Timm Rosenbach, former Phoenix Cardinals QB, said "To me, there is no doubt she can be competitive. She has a strong leg, and she can be very accurate."
SportsBettingArizona.com acknowleges Longo's signing is historic, but she knows she'll have to work hard to earn every minute of playing time she gets. The Grizzlies have a returning kicker on the roster and previously signed another kicker in February. Longo knows that playing time at the collegiate level comes with competition, and looks forward to proving herself. "I'm ready to compete," she said.