Tucson Sportsbooks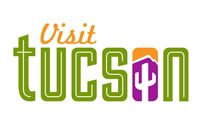 When it comes to casinos in Arizona, it's all about the customer – and this is why you should expect nothing less than the best at Tucson Sportsbooks. There are three casinos in the great city of Tucson, run by two federally recognized Native American Tribes: The Pascua Yaqui Tribe and the Tohono O'odham Nation. We believe that these three casinos could be the site of potential sports betting in Arizona, once sportsbooks are allowed to open.
The state of Arizona is now allowed to operate sportsbooks, should they choose to, thanks to a decision by the Supreme Court of the United States. For the last 26 years, there has been a federal prohibition on sports betting in all but a handful of states, thanks to a law called the Professional and Amateur Sports Protection Act. In May 2018, SCOTUS decided that this law was unconstitutional, striking it down and giving states back their rights.
Now, Arizona lawmakers are considering the benefits of legalizing sports betting in Arizona. It's really only a matter of time before the Copper State opens up their own sportsbooks and attempts to compete with neighboring state Nevada.
We're here to help you figure out where you can bet on sports in Tucson, when Tucson sportsbooks at land-based locations will become legal, and what you can do in the meantime so you don't miss out on any upcoming action. We've also taken this opportunity to take a look at potential sites for the best Tucson Sportsbooks. These three casinos are world class, but do you really know what you can find there? We've reviewed each casino for you, so that when it comes time to decide, you know exactly where the best sportsbooks in Tucson, Arizona are.
Is Sports Betting Currently Legal In Tucson
Sports betting in Tucson is not yet currently legal at land-based locations. But that doesn't mean it won't be legal in the next year or so. The Supreme Court's decision to repeal PASPA allows states to decide for themselves whether they're going to operate sportsbooks. This means that Tucson Sportsbooks are a real possibility, especially after we took a look at where lawmakers in the state stand on the issue.
While no bills for sports betting in Arizona were passed during this past session, there was tremendous support for legalizing it. Before any decisions can be made regarding the legalization of Tucson Sportsbooks, lawmakers will have to consult with the Tribes. Arizona's casinos are owned exclusively by the federally recognized tribes in the state. If sportsbooks in Tucson want any chance of success, they'll need to be operated out of the popular Native American casinos in the state.
Once bills are introduced and begin going through the legislative process, we'll update this page so that you can stay on top of their progress. You don't have to wait for Tucson Sportsbooks to open up near you to bet on your favorite games, though. Legally, you can access an online, offshore sportsbook from anywhere in Arizona. Sports betting online is not unlawful if you're using a company that is based overseas, in a country where sports betting has already been legalized and regulated. We recommend using sites like Bovada or BetOnline. They have spotless reputations, incredible betting odds, and great features to suit every sort of bettor's needs.
How Old Do I Have To Be To Bet On Sports In Tucson?
In Tucson, you'll have to be at least twenty-one before you can bet on sports legally at Tucson Sportsbooks. While this is technically speculation, we have every reason to believe that this will be the legal age to bet on sports in Arizona, since it is the legal gambling age for every other type of betting in the state. We recommend that you wait until you're 21 before you bet on sports online, as well, since violating the age requirement could lead to legal consequences. You'd more than likely be forced to forfeit any winnings you made at online Tucson sportsbooks, as well as pay a possible fine for violating state law. You'd also be banned for life from the online sportsbook or sportsbooks you were using, which just doesn't seem worth it.
Best Sportsbooks in Tucson
There are three casinos in Tucson Arizona, giving you three competitors for the title of Tucson's best sportsbooks. Below, we've gone ahead and reviewed the Native American casinos that these Tucson Sportsbooks would be housed in. You can expect to see the same perks for a casino's sportsbook as you would for their regular casino guests, which include complimentary drink service, free plays, and rewards programs. Once you're finished perusing these reviews, it will be up to you to decide which are truly the top sportsbooks in Tucson, Arizona.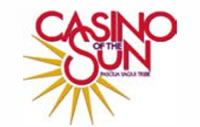 Casino of the Sun

Address:

7406 S Camino De Oeste, Tucson, AZ 85746

Phone:

(520) 883-1700
The Casino of the Sun was the first casino to open in Tucson, Arizona. Owned and operated by the Pascua Yaqui tribe, the Casino of the Sun provides bettors with a low-key venue designed with the bettor in mind, Over 300 of the hottest slot machines can be found throughout their expansive casino floor.
Their electronic table games are some of the best in the business and include electronic blackjack, three card poker, and more. There are also live $3 blackjack tables run from noon until 2 am Thursday through Saturday. The venue is the smallest of the Tucson casinos, but don't let the size fool you. This casino is a great place for anyone and is sure to be a perfect venue for a no-nonsense Tucson Sportsbook.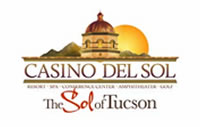 Casino Del Sol

Address:

5655 W Valencia Rd, Tucson, AZ 85757

Phone:

(855) 765-7829
The Casino Del Sol is also owned and operated by the Pascua Yaqui Tribe. This is the larger of the two Yaqui casinos and is one of the premier casinos and entertainment venues in the entire state of Arizona. When you visit the Casino Del Sol, you'll feel like you've entered casino nirvana. Live poker, table games, and blackjack compliment the nearly 1,000 slot machines and live bingo tournaments offered daily. Their weekly giveaways include cash, prizes, and free plays.
Their rewards program allows you to earn points as you play, unlocking rewards like access to the VIP lounge and complimentary drink service while you play. Their entertainment is second to none, with an amphitheater on site, live entertainment every Thursday through Saturday night, six restaurants, a full-service spa, and a Forbes four-star resort. You won't want to leave after spending a day at this casino and sportsbook in Tucson.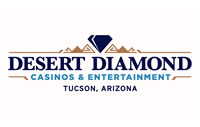 Desert Diamond Casino

Address:

7350 South Nogales Highway, Tucson, Arizona 85756

Phone:

(866) 332-9467
The Desert Diamond Casino is a part of the Tohono O'odham Nation. This high-stakes casino offers live blackjack, bingo, and keno, along with a private poker room with legendary tournaments. Find over 1,000 different slot machines with all the latest and greatest games you love to play. The casino has both smoking and non-smoking sections in its casinos, allowing everyone to play where they're most comfortable.
The Diamond casino also offers a comprehensive rewards program. Points can be earned whether you're playing slots or table games and can be used to unlock perks like complimentary drink service, dining discounts at any one of the fine dining establishments at the Diamond Casino, and discounted spa treatments or hotel stays at the luxurious resort. The sportsbook at Desert Diamond Casino is sure to be one of the hottest sportsbooks in Tucson, AZ when it opens.